THE NEW YORK TIMES — AUGUST 2023 Lead Image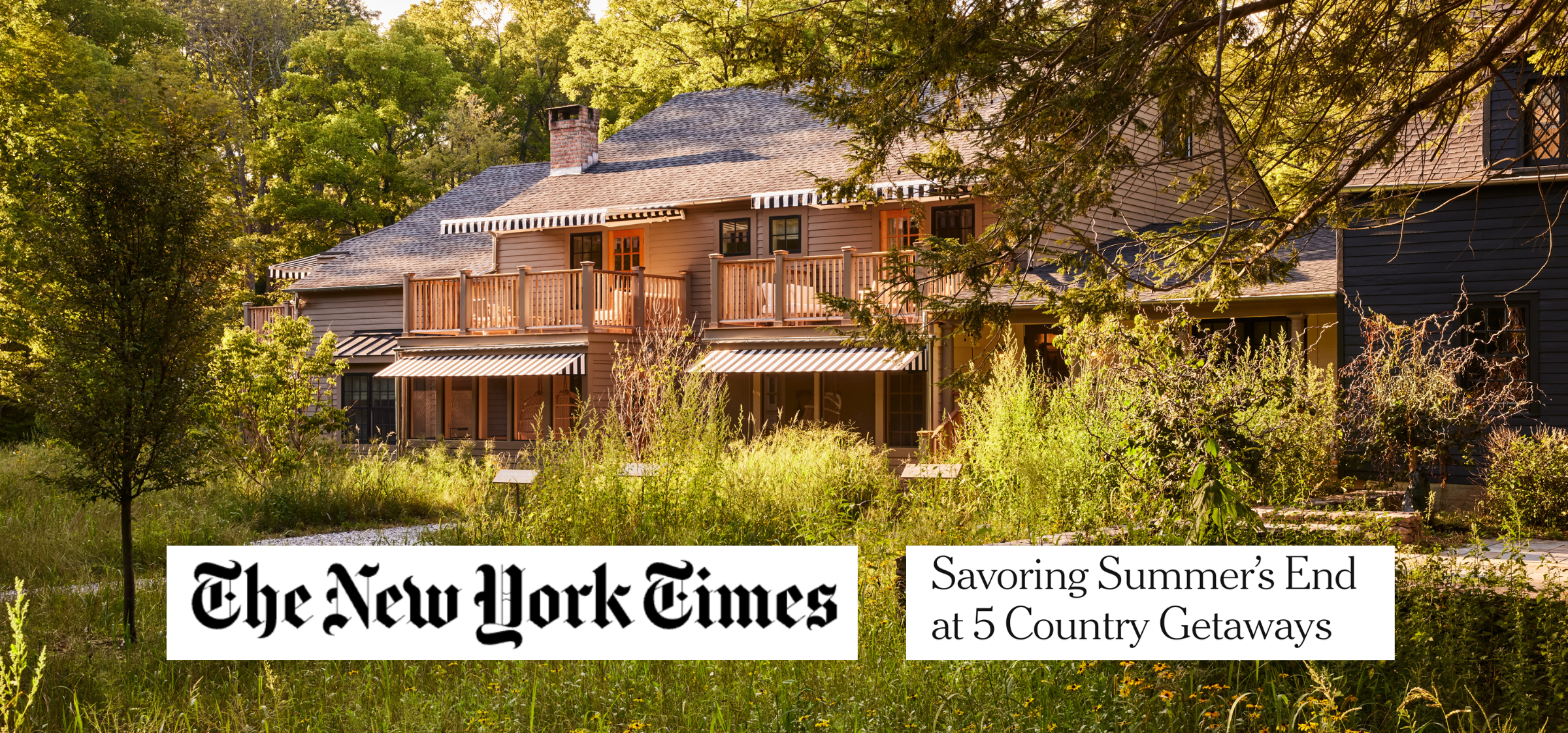 "This storied Hudson Valley country estate about two hours north of Manhattan has attracted a long list of writers and thinkers, including Ralph Waldo Emerson, Henry David Thoreau, Zora Neale Hurston, Langston Hughes and W.E.B. Du Bois.
In the early 1900s the property was bought from its original owners, the Benton family, by Amy and Joel E. Spingarn, one of the founders of the publisher Harcourt, Brace & Co. and a former president of the N.A.A.C.P. (he was the originator of the Spingarn Medal, awarded annually by the N.A.A.C.P.).
Today the 250-acre property has 37 rooms and suites. Recently, it opened Benton House along Webutuck Creek, where you'll find 13 guest rooms, each with private outdoor space amid grasses and wildflowers. All look to nature for inspiration, with grass cloth wallpaper and beds by the Connecticut-based furniture maker Ian Ingersoll.
Head to the barns — which are covered in timber reclaimed from the old Tappan Zee Bridge Hudson River crossing — for a fitness or yoga class, or to use the gym and sauna. Outside you can play tennis, swim in the pool, stroll through a walled garden built in 1916, or take a private falconry session. You can hike and bike on the property, too.
Or venture a little farther for a fly-fishing excursion, or a trip to nearby Maitri Farm, where you can browse produce and flowers (private tours are also available). Birders may want to check out the Ripley Waterfowl Conservancy.
Other guests, in the tradition of Troutbeck, may simply want to sit back and converse over a meal. Settle into a booth in the Dining Room for seasonal dishes with local ingredients, like spelt ricotta cavatelli with chanterelles and garlic scapes. For bites on the go and late-night snacks, the Pantry offers temptations like salted chocolate chip cookies, coffee cake, brownies and blondies made in-house and available 24 hours."
— Stephanie Rosenbloom, The New York Times