Recipe of the Moment Lead Image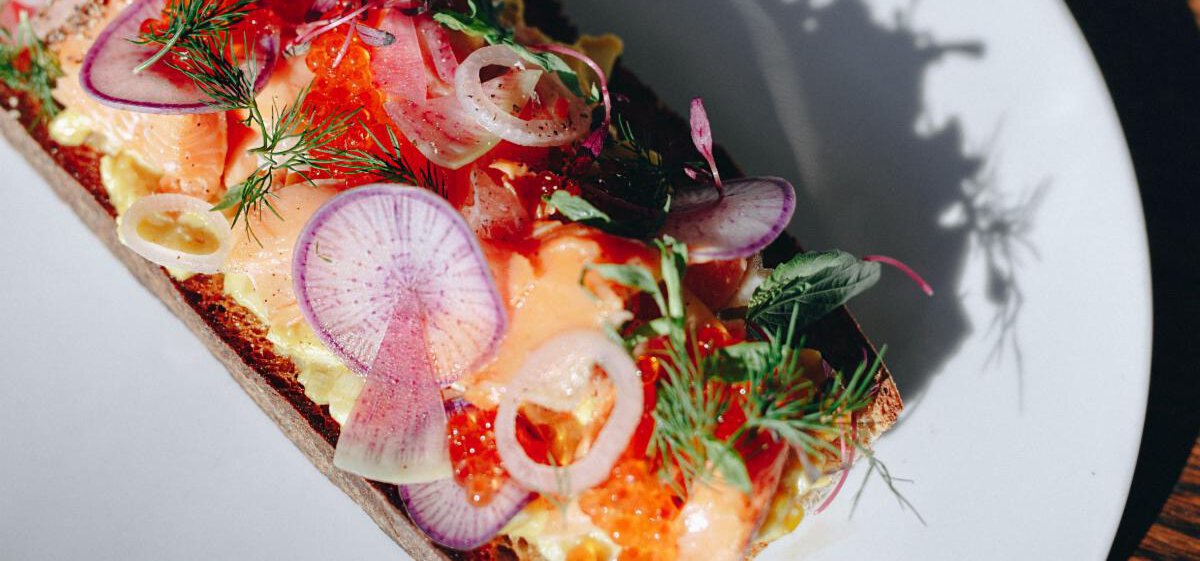 Recipe of the Moment
Gently Smoked Steelhead Trout with Crushed Egg, Trout Roe and Breakfast Radishes on Toast
Ingredients:
1 lb Steelhead trout
1 oz Steelhead trout roe
6 eggs
Nice Olive Oil
White Balsamic Vinegar
Rice Wine Vinegar
1 tsp Sharp Dijon Mustard (or to taste)
2 shallots, peeled and thinly sliced into rings
1 Bunch Breakfast Radishes. Scrubbed, some sliced into very thin rings, some to snack on
Zest of 1 Lemon, Microplaned plus 2 tsp lemon juice
4 Sprigs Fresh Dill
4 Sprigs Fresh Tarragon
Nasturtium Flowers, Violets, Pea Flowers, Onion Flowers – or anything else pretty that you want to eat
2 or 4 slices Miche or other whole grain hearth bread. A thick slice of Brioche is also great here.
Smoked Trout:
Clean, fillet and debone the steelhead trout. Season with salt and pepper then smoke fillets over very gentle smoke at 125F for 20-30 minutes in a smoker box, a kettle grill or in a very low oven until just cooked through. If you're new to smoking, make sure the first, sharp "green" smoke is burnt off before you put the fish in the smoker. If you start to see white spots of protein setting, you've gone too far. Let cool and tear into large flakes into a bowl. Season with olive oil and white balsamic vinegar
Crushed Eggs:
Boil enough water in a pot to fit all the eggs with room to spare. Drop the eggs gently into the water and cook for 7 minutes. Cool immediately under cold water, then peel.

In a bowl, break the eggs a bit with the side of a fork. The yolk should be gooey, but not runny. Season with salt and pepper, add Dijon mustard, a glug of olive oil, and maybe some tabasco if you're feeling frisky. By the time you're done mixing it through, there should still be big chunks of egg white. Like a chunky egg salad, but gooey and luscious
Pickled Shallots:
Bring a mixture of 1 cup rice vinegar, ½ cup water, ½ tsp coriander seed, and 1 tbsp sugar to a simmer. Turn off the heat, add shallot rings, then 2 tbsp lemon juice, and allow to cool in the pot.
To Finish:
Toast the bread miche, cut it into wide pieces that you might be able to pick up with your hands, then put the slices back together on a cutting board. Cover the slices with the egg salad, spreading it about ¼ inch thick across the toast. Add some good heaps of Steelhead, then garnish with bits of this and that – a little dill, some flowers, some radish slices, some shallots….make it interesting. Use a spatula to transfer the toast to plates. Drizzle with some olive oil, and you're done.