Recipe of the Moment Lead Image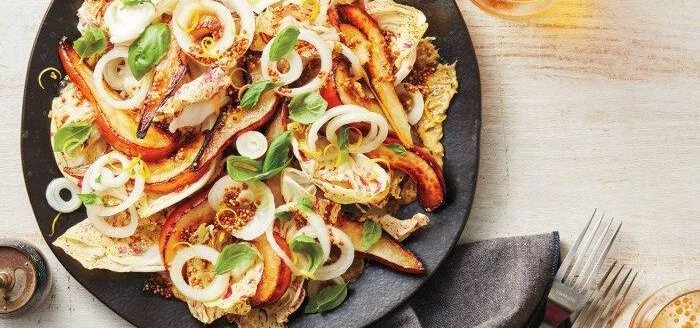 Recipe of the Moment
English Cider and Castelfranco Radicchio with Seared Pear
By Chef Gabe McMackin
Serves Four
Ingredients
½ cup toasted pine nuts, plus more for serving
2 sprigs rosemary
Canola oil, as needed
Salt, to taste
1 cup rice wine vinegar
1 tablespoon Sherry vinegar
1 tablespoon sugar
3 cippolini onions, sliced into thin rings
1 head radicchio, preferably Castelfranco, leaves separated and torn
4 firm pears, such as Seckel, Anjou or Bosc, quartered lengthwise
4 sprigs fresh basil, torn
2 tablespoons pickled mustard seeds
Aged Balsamic Vinegar, to serve
Olive oil, to serve
Fresh-cracked black pepper, to taste
Zest of 1 Meyer lemon
Preparation
Add pine nuts and rosemary to a food processer and purée until smooth, adding a bit of canola oil if necessary. Season with salt, to taste.
Bring rice wine vinegar, Sherry vinegar, sugar and ½ cup water to boil in saucepan. Season with salt, to taste. Add onions and remove from heat. Let sit to make quick pickles.
Heat sauté pan over medium-high and add small amount of canola oil to prevent sticking. Add pear wedges, and sear on all sides until dark in color, about 5 minutes total. Remove from heat and set aside.
Spread pine nut butter on bottom of shallow bowl. Layer in radicchio, pears, pickled onions, basil, parsley and mustard seeds. Drizzle with olive oil and Balsamic vinegar, and season with salt, pepper and lemon zest.
Pairing: Dunkertons Dry Organic Cider, a classic English expression of cider (earthy, gamy and smoky, with a juicy apple tone for balance).
***First published on WineEnthusiast.com on September 15, 2020