2023 Troutbeck Symposium Lead Image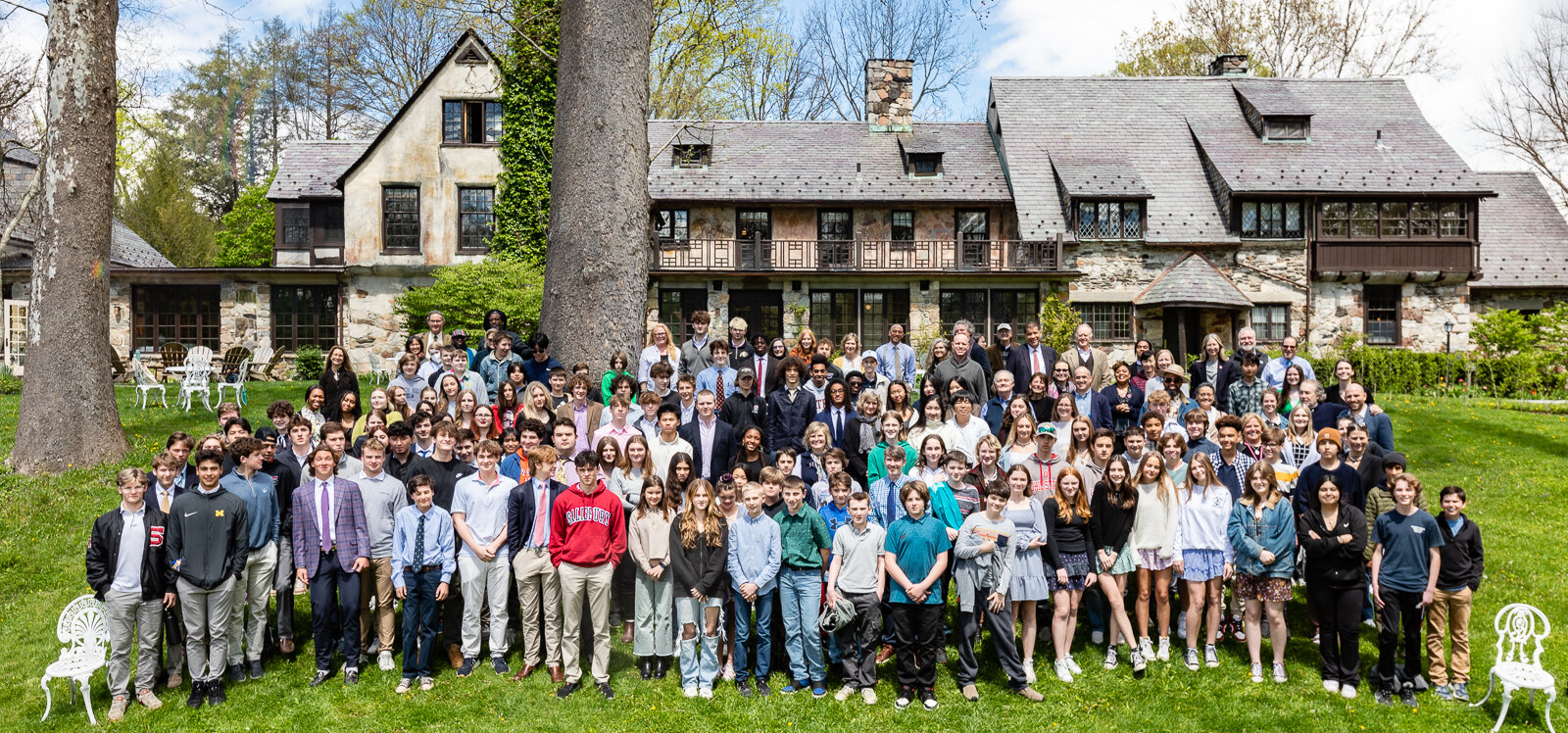 2023 Troutbeck Symposium
From April 30 to May 2, 2023, the Troutbeck Symposium — the student-led historical educational forum — returned for its second year at Troutbeck in Amenia, New York. Middle and high school students from 14 regional public and independent schools met to listen, present, and discuss findings of their year-long research projects uncovering under-told local histories of marginalized communities that tie to our national fabric. With distinguished guests, including Dr. Hassan Kwame Jeffries, Associate Professor of History, The Ohio State University, and Dr. Christina Proenza-Coles, Lecturer American Studies Department, University of Virginia, and Michael Morand, Director of Community Engagement at Yale University's Beinecke Rare Books and Manuscripts Library, students and educators gathered at Troutbeck to share and learn in a safe space and experience the power of place, while they channel Troutbeck's unique history as a gathering locale for great minds — including John Burroughs, Thurgood Marshall, Sinclair Lewis, Lewis Mumford, Teddy Roosevelt, Zora Neale Hurston, Mabel Byrd and W.E.B. Du Bois — for hundreds of years.
The 2023 Troutbeck Symposium was a 3-day event consisting of an Educators Round Table, Student Presentations, and a Community Round Table on how to make this collaborative effort more accessible and enduring. An exhibition of Hotchkiss, Salisbury Central, and Salisbury School students' artwork, based on the overarching themes of under-told stories and hidden BIPOC histories, was on view in Troutbeck's Gallery. Additionally work created with the help of our neighbors at the Wassaic Project, who were able to bring together independent and public school students for the first time for a collaborative project in which they made art and wrote poetry and stories inspired by Troutbeck for a limited run of chapbooks inspired by the Troutbeck Leaflets, originally produced by Joel and Amy Spingarn.
Inception & Historical Context: Since reopening in 2017, following an extensive renovation, Troutbeck has sought to build on the essential tenets of inclusivity, dialogue and community that have been at the property's core since the early 1900s. Former owners, Joel and Amy Spingarn were civil rights activists and hosted two important, but lesser known, early meetings of the NAACP at Troutbeck known as the Amenia Conferences of 1916 and 1933. In 2021, Troutbeck was introduced to Salisbury School history teacher Rhonan Mokriski and learned of the collaborative project he had created with Marvelwood School Film Studies teacher Ben Willis, in which their students made short documentaries exploring under-told African American history in our area. The opportunity to further their fundamental vision of Troutbeck — as a meeting place for creativity, discourse and positive change — was evident to all. The result was the first Troutbeck Symposium, which took place in April 2022. Encouraged by the students' evident passion for project-based learning, community enthusiasm and the hopefulness for a more equitable and honest future fostered by the Symposium, Troutbeck's proprietors, the teachers and students will make the Troutbeck Symposium an ongoing yearly event.
Thanks to a decentralized approach, created and led by educators and students, multiple schools support, contribute, and collaborate with each other across disciplines to generate meaningful and authentic projects designed to educate, while partnering with historical societies, college and university educators, nonprofit organizations, and local business to build community. Essential to this research is the acknowledgement that history is "messy," and students are encouraged to be detectives, pull threads, rethink stories, and reexamine accepted statements through a critical lens. At the Troutbeck Symposium, students spoke passionately about local history buttressed by their dogged determination to contribute to the historical record by documenting Americans left out of the narrative — people who contributed to our community, but who remained unrecognized.
To learn more about the Troutbeck Symposium and how to get involved visit the Troutbeck Symposium page.
2023 PARTICIPATING SCHOOLS — (14) Salisbury School, Sharon Center School, Housatonic Valley Regional Highschool, Hotchkiss School, Indian Mountain School, Salisbury Central School, North Canaan Elementary School, Lee H. Kellogg School, Marvelwood School, Millbrook School, Berkshire School, Webutuck High School, Spackenkill and Cornwall Consolidated School
2023 COMMUNITY PARTNERS — Troutbeck, Wassaic Project, Beinecke Rare Book & Manuscript Library at Yale University, Amenia Historical Society, Cornwall Historical Society, Sharon Historical Society, Litchfield Historical Society, Dutchess County Historical Society, Upper Housatonic Valley National Heritage Area, Northwest Connecticut Community Foundation and Salisbury Association.
2023 SPONSORS — Salisbury Bank, Q Farms, Champalimaud Design, Silo Ridge Community Foundation, Mackey Butts and Whalen, Mrs. Lawrence Levin, J.MAK, Andre Vlodar + Kim Schmidt, Peter + Christina Klemm, Berkshire Taconic Community Foundation, Valerie Cook, Northwestern Connecticut Community College, Scott + Alexis Small, Troy Ramcharran - Ramar Event Productions, Katherine Overton Legacy Fund, and Joshua Simpson.
QUOTATIONS FROM 2023 PARTICIPANTS
"We can't make sense of who we are today, without understanding who we have been, without understanding that this history is ours. We have to own it all. We have to claim it all. We can't just celebrate the good stuff + pretend the bad stuff didn't happen. If you're able to deal with the discomfort, if you're able to wade into those waters, the other side is these powerful people, these powerful stories that spark creativity and imagination and determination, and in the students it sparks the desire for action, the desire for change."
— Dr. Hasan Kwame Jeffries, Associate Professor of History, The Ohio State UniversitY
"I've been doing this work since the 1980s, I've been to scores of conferences and symposia and programs, and I can tell you hands down that this is the most important, most productive, most meaningful, and most promising thing I have done in my career. We often sit around and talk about what we're going to do, what we should do, what we can publish…the Troutbeck Symposium is doing it! It's the roadmap for the future. It's life or death right now. I studied this history. People lost their lives. It's violent. It's dangerous. It's not just academic, it's life or death. There is no 'Us and Them' — it's just Us. You take that together in whatever field you work in, as a mother, as a teacher, whatever you do….This work is extraordinarily important."
— Dr. Christina Proenza-Coles, American Studies Department, University of Virginia
This world is terrifying, and this country is scary enough to make people want to escape. I am one of those people. While this country is a dangerous place for many people, The Troutbeck Symposium was a light of hope. My classmates and I researched forgotten, lost, or ignored history and presented it for this symposium. The presentations from my school and the other schools there were so moving and showed that we wanted change. This was unlike other conferences as there was actual work behind it, each presentation had many hours of research behind it.
— Lucas Cepeda, Salisbury School, 2023
Let's celebrate and amplify place, network and intersections as we aim to keep our work real and authentic. And a word about authenticity, it makes my Beinecke Library heart sing to see highschool students engage with the tangible archives both in a library like ours as well as the archives that exist in cemeteries, the archives of community memory of people, the archives in local historical societies. And what we've seen, last year and this year, which all of us who were in this room know, is hard history but with it comes resilience and vitality and joy. And I think we all know, but it is worth centering and thinking about we share these young people come to life in the archives, just as they bring the archives to life. And I think some of it is true over time, but more true in our time, and it's not just for teenagers, it's for all ages, is this focus on authenticity and real.
— Michael Morand, Director of Community Engagement at Beinecke Library at Yale University
I wish I could have spent the entire day there, absorbing the intelligence and ethical creativity of the students. What I saw gave me hope that students in the schools in our area are learning about America's complicated and uneven commitment to equality--and may themselves discover new ways to bring us closer living to this important dream.
— Carol Ascher, author A Chance for Land and Fresh Air, Russian, Jewish Immigrants in Sharon and Amenia 1907-1940
I really enjoyed the symposium. It was so much more than I was expecting. The student videos were beyond impressive, and I certainly learned things from them and the speakers that I hadn't known before.
— Jen Owens, Administrator, Sheffield Historical Society