Debuts at Troutbeck: Authors Alison Fairbrother, "The Catch" and Violet Kupersmith, "Build Your House Around My Body" Lead Image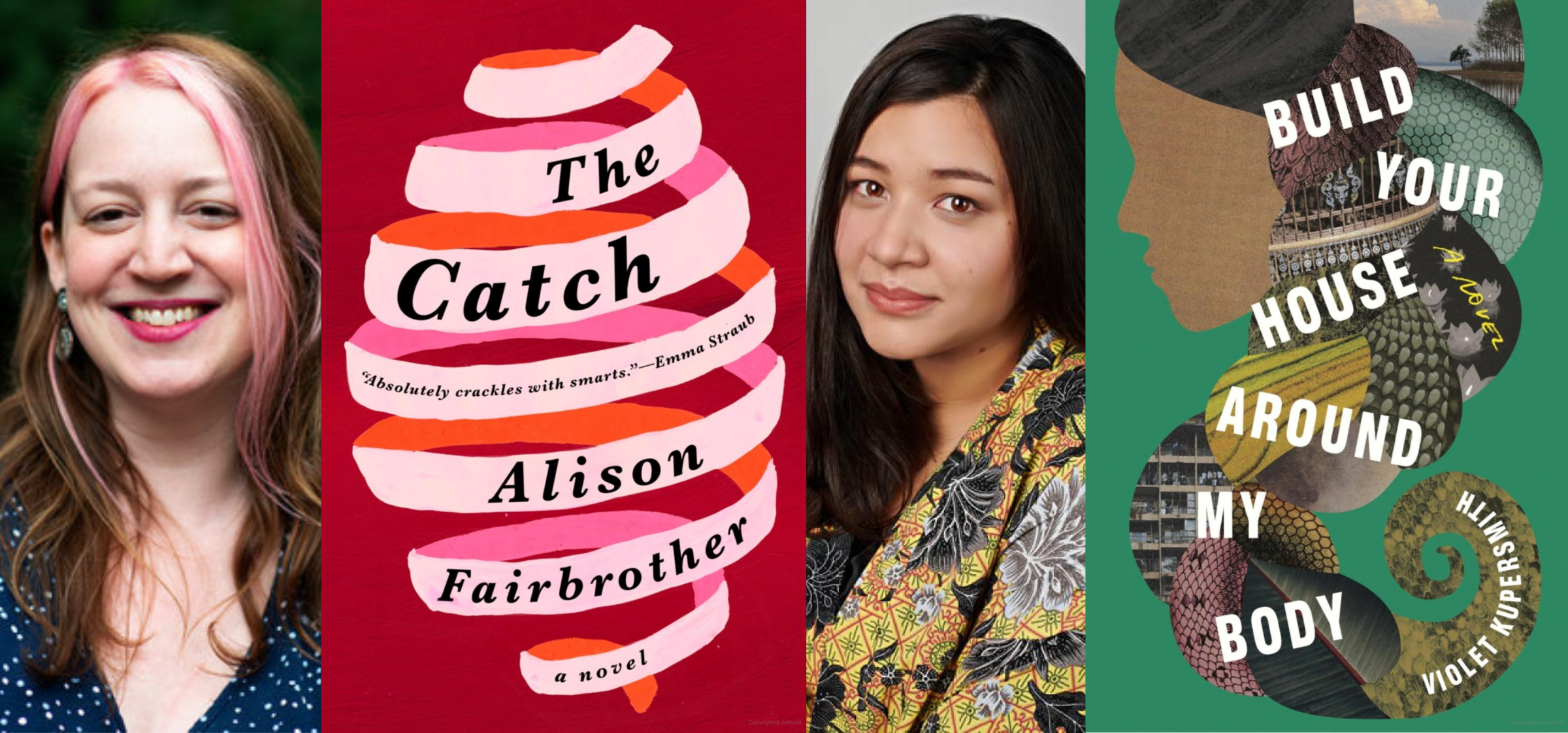 Debuts at Troutbeck: Authors Alison Fairbrother, "The Catch" and Violet Kupersmith, "Build Your House Around My Body"
September 8, 2022
6:00pm - 7:00pm on the Ballroom Patio
FREE
As a historic haven for writers, artists, and thinkers, and in collaboration with our favorite local bookshop, House of Books in Kent, CT, we are delighted to present Debuts at Troutbeck, a series dedicated to introducing readers to the next great generation of writers. At each session of Debuts at Troutbeck, authors will read from their new work and then take questions from attendees and each other.
Register to attend here.
The Catch by Alison Fairbrother
NEW YORK TIMES EDITORS' CHOICE • A young woman searches for the truth about her father—and the secrets of her family—in this "big-hearted debut that absolutely crackles with smarts" (Emma Straub).

"A warm and funny debut novel . . . perceptive, wry, and witty."—The New York Times
Two years out of college, Ellie Adler has a job in journalism, an older lover, and a circle of smart friends. Her beloved father, James, who has children from three marriages, unites the family with his gentle humor and charisma, but Ellie has always believed she is her father's favorite. When he suddenly dies, she finds herself devastated by the unexpected loss. Then, at the reading of his will, she learns that instead of leaving her his prized possession—a baseball that holds emotional resonance for them both—he has left her a seemingly ridiculous, even insulting gift. Worse, he's given the baseball to someone no one in the family has ever heard of.
In her grief, Ellie wonders who could have possibly meant more to her father than she did. Setting out to track this person down, she learns startling information about who her father really was and who she herself is becoming. Moving, witty, and unforgettable, The Catch is a story of the gifts we're given over the course of a lifetime, by family, friends, and strangers—the ones we want and the ones that catch us unawares.
Alison Fairbrother is an associate editor at Riverhead Books. She worked as a journalist in Washington, D.C., before getting her MFA at Stony Brook University. She lives in Brooklyn.
---
Build Your House Around My Body by Violet Kupersmith
Part puzzle, part revenge tale, part ghost story, this ingenious novel spins half a century of Vietnamese history and folklore into "a thrilling read, acrobatic and filled with verve" (The New York Times Editors' Choice).

FINALIST FOR THE CENTER FOR FICTION'S FIRST NOVEL PRIZE • LONGLISTED FOR THE WOMEN'S PRIZE FOR FICTION • ONE OF THE BEST BOOKS OF THE YEAR: The New York Times Book Review, NPR, Good Housekeeping, Kirkus Reviews

"Fiction as daring and accomplished as Violet Kupersmith's first novel reignites my love of the form and its kaleidoscopic possibilities."—David Mitchell, author of Cloud Atlas
Two young women go missing decades apart. Both are fearless, both are lost. And both will have their revenge.
1986: The teenage daughter of a wealthy Vietnamese family loses her way in an abandoned rubber plantation while fleeing her angry father and is forever changed.
2011: A young, unhappy Vietnamese American woman disappears from her new home in Saigon without a trace.
The fates of these two women are inescapably linked, bound together by past generations, by ghosts and ancestors, by the history of possessed bodies and possessed lands. Alongside them, we meet a young boy who is sent to a boarding school for the métis children of French expatriates, just before Vietnam declares its independence from colonial rule; two Frenchmen who are trying to start a business with the Vietnam War on the horizon; and the employees of the Saigon Spirit Eradication Co., who find themselves investigating strange occurrences in a farmhouse on the edge of a forest. Each new character and timeline brings us one step closer to understanding what binds them all.
Build Your House Around My Body takes us from colonial mansions to ramshackle zoos, from sweaty nightclubs to the jostling seats of motorbikes, from ex-pat flats to sizzling back-alley street carts. Spanning more than fifty years of Vietnamese history and barreling toward an unforgettable conclusion, this is a time-traveling, heart-pounding, border-crossing fever dream of a novel that will haunt you long after the last page.
Violet Kupersmith is the author of the short story collection The Frangipani Hotel. She previously taught English with the Fulbright program in the Mekong Delta and was a creative writing fellow at the University of East Anglia. She has lived in Da Lat and Saigon in Vietnam, and currently resides in the United States.