DEBUTS AT TROUTBECK: Authors Alyssa Songsiridej of "Little Rabbit" and Julia May Jonas of "Vladimir" Lead Image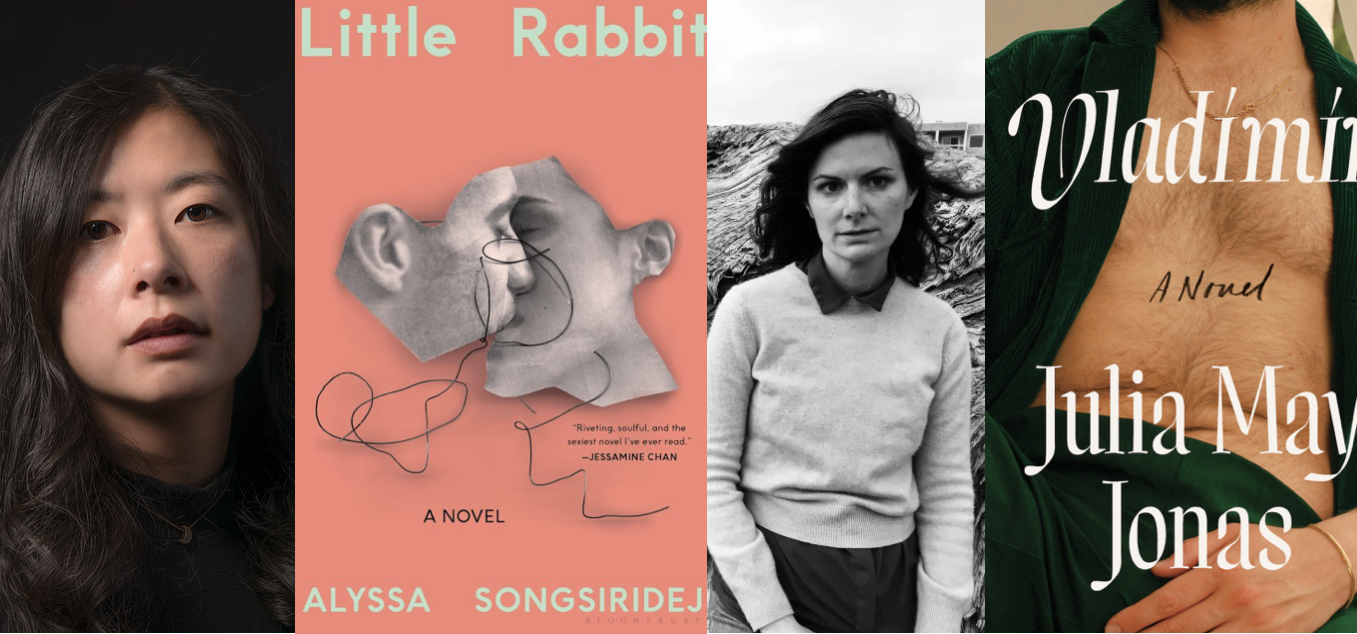 DEBUTS AT TROUTBECK: Authors Alyssa Songsiridej of "Little Rabbit" and Julia May Jonas of "Vladimir"
June 9, 2022
6pm-7:30pm, Ballroom Patio
Free
As a historic haven for writers, artists, and thinkers, and in collaboration with our favorite local bookshop, House of Books in Kent, CT, we are delighted to present Debuts at Troutbeck, a series dedicated to introducing readers to the next great generation of writers. At each session of Debuts at Troutbeck, authors will read from their new work and then take questions from attendees and each other.
Register to attend here.
Little Rabbit by Alyssa Songsiridej
"A darkly sensuous tale of awakening that will quietly engulf you in flames." --Ling Ma, author of Severance
When the unnamed narrator of Little Rabbit first meets the choreographer at an artists' residency in Maine, it's not a match. She finds him loud, conceited, domineering. He thinks her serious, guarded, always running away to write. But when he reappears in her life in Boston and invites her to his dance company's performance, she's compelled to attend. Their interaction at the show sets off a summer of expanding her own body's boundaries: She follows the choreographer to his home in the Berkshires, to his apartment in New York, and into submission during sex. Her body learns to obediently follow his, and his desires quickly become inextricable from her pleasure. This must be happiness, right?
Back in Boston, her roommate Annie's skepticism amplifies her own doubts about these heady weekend retreats. What does it mean for a queer young woman to partner with an older man, for a fledgling artist to partner with an established one? Is she following her own agency, or is she merely following him? Does falling in love mean eviscerating yourself?
Combining the sticky sexual politics of Luster with the dizzying, perceptive intimacy of Cleanness, Little Rabbit is a wholly new kind of coming-of-age story about lust, punishment, artistic drive, and desires that defy the hard-won boundaries of the self.

Alyssa Songsiridej is an editor at Electric Literature. Her fiction has appeared in StoryQuarterly, The Indiana Review, The Offing, and Columbia: A Journal of Literature and Art, and has been supported by Yaddo, the Ucross Foundation, the Ragdale Foundation, the Vermont Studio Center, the VCCA and the Massachusetts Cultural Council. Little Rabbit is her first novel. A National Book Foundation 5 Under 35 Honoree, she lives in Philadelphia.
---
Vladimir by Julia May Jonas
"Delightful…cathartic, devious, and terrifically entertaining." —The New York Times
"Timely, whip-smart, and darkly funny." —People (Book of the Week)
"A deliciously dark fable of sex and power." —Esquire
A provocative, razor-sharp, and timely debut novel about a beloved English professor facing a slew of accusations against her professor husband by former students—a situation that becomes more complicated when she herself develops an obsession of her own...
"When I was a child, I loved old men, and I could tell that they also loved me."
And so we are introduced to our deliciously incisive narrator: a popular English professor whose charismatic husband at the same small liberal arts college is under investigation for his inappropriate relationships with his former students. The couple have long had a mutual understanding when it comes to their extra-marital pursuits, but with these new allegations, life has become far less comfortable for them both. And when our narrator becomes increasingly infatuated with Vladimir, a celebrated, married young novelist who's just arrived on campus, their tinder box world comes dangerously close to exploding.
With this bold, edgy, and uncommonly assured debut, author Julia May Jonas takes us into charged territory, where the boundaries of morality bump up against the impulses of the human heart. Propulsive, darkly funny, and wildly entertaining, Vladimir perfectly captures the personal and political minefield of our current moment, exposing the nuances and the grey area between power and desire.
Julia May Jonas is a playwright and teaches theater at Skidmore College. She holds an MFA in playwriting from Columbia University and lives in Brooklyn with her family. Vladimir is her debut novel.
---
Register to attend here.